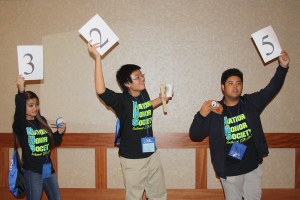 This weekend, NHS officers attended the Leadership Experience and Development (LEAD) Conference in Phoenix, Arizona from Nov. 9 to Nov. 11.
"I was excited for quite some time now and we finally had a chance for the new officer team to bond and have fun," senior Donovan Ly said.
During the conference, officers led leadership activities and workshops and attended six sessions that gave student leaders ideas for community service and networking. Additionally, officers sharpened their skills in professionalism and leadership after hearing from leadership keynote speakers, A'ric Jackson, Ted Wiese, and JC Pohl.
"I feel that going to Arizona for a leadership conference was a wonderful opportunity that more people should be able to experience," junior Kelsie Crawford said.
Before heading to the conference, they practiced their activities with general NHS members during their meeting on Nov. 7. These activities included a flingshots competition, "Whomp 'Em," "Pick Up Sticks," "Web of Names," "Hot Potato," "Action Syllables," "Name Ring," and "Bumpity Bump Bump."
"I believe that the national LEAD Conference trained the NHS officers so that they can have exciting and engaging meetings going forward," NHS Adviser Mrs. Miriya Julian said.