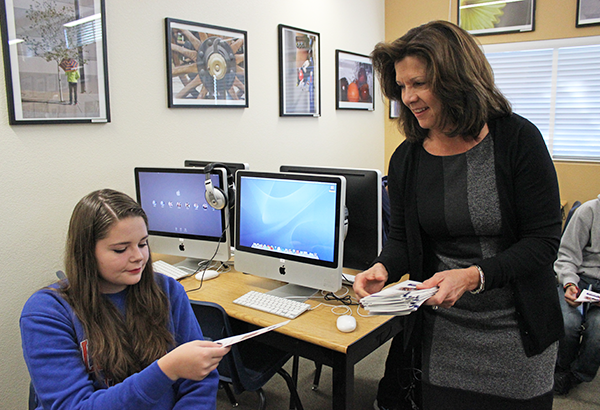 From Nevada Broadcasters Foundation (NBF), President Mrs. Linda Bonnici and Executive Director Mr. Eric Bonnici spoke to Video Production II students on Nov. 17 about future scholarship opportunities available from the Tony & Linda Bonnici Scholarship Fund (TLBSF).
"I was really impressed that they had that much money to give away and they both knew what they were talking about. I think the kids found it interesting and it's nice to know there's specific money out there for kids who want to do this," Broadcast Journalism adviser Mr. Tom Rizzo said.
The scholarship program, which is available to current seniors and college students, will award the selected applicants up to 12 credits for a four or two-year college in a broadcast or related communications program for one year.
"We have been talking to classes to be sure that all the students have a good understanding of all the different jobs that are within a television program. We have a 150 different employees, so you can imagine how many people working behind-the-scenes," Bonnici said.
Scholarship recipients must attend a college in the state of Nevada and partake in an in-state internship, as well as volunteer for fundraising events held throughout the year.
"Each year we try to do more fundraising to give more out. The first year we gave scholarships, we only had four recipients," Bonnici said.
Now that the 2014-15 application cycle has closed, interested students must check the website after Jan. 1, 2015 for information regarding the new requirements for the 2015-16 school year.
"The scholarship is a good opportunity for students who want to go to college in Nevada, but since I'm planning on going to ASU for broadcast, it would be a good to have something to fall back on if it doesn't work out," junior Carlos Leyva said.
The scholarship committee will screen the applications to select those eligible for a personal interview. Scholarship recipients will be announced at the end of the decision process.
"We're looking for passion and for someone who really wants to do this because we can't give it to everyone who applies. We're not necessarily judging their skills, we're more interested in seeing how passionate they are about this and why they want to do this," Bonnici said.
The Nevada Broadcasters Foundation awarded 14 students with the scholarship for the 2013-2014 school year.
"Broadcast is important to me. Hearing about this scholarship pushes me even further to pursue a career in broadcasting. This may be an opportunity to pay for college all four years and study the career I am most interested in," senior Ralph Gallo said.