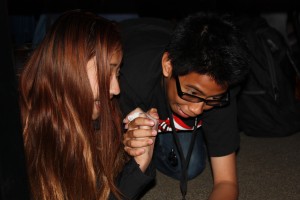 Southwest Career and Technical Academy participated in the Nevada Shake Out yesterday. This program encouraged awareness for the students of Nevada regarding the potential threat of earthquakes.
"The announcement was very constructive and prepared us for a natural disaster we may not be ready for in the future," senior Zachary Pinion said.
Following the daily morning news show, Rout(e) 131, a brief clip from the Nevada Shake Out program showed a demonstration of what to do in case of an earthquake drill.
"It was funny seeing my teacher hide under the table like we did. I feel as though the drill did prepare everyone for when an earthquake does happen," junior Mariah Holmes said.

Loading ...
Shortly after the clip, every classroom participated in the school wide earthquake drill where the students had to crawl underneath the table and crouch in the proper position.
"I actually felt like an earthquake was happening, me and everyone in my class took the drill seriously. Now I know what to do for when an earthquake does happen," sophomore Kaitlin Eure said.