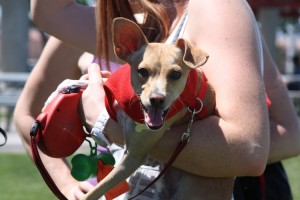 Despite sweltering heat, on Saturday, April 21, 2012, Mix 94.1 sponsored the 12th Annual Pet-A-Palooza at Star Nursery Fields. Over 54 non-profit animal rescue groups were featured including the Golden Retriever Rescue of Southern Nevada, Incred-A-Bull,  and Peaceful Valley Donkey Rescue, Inc.
Over 10,000 Las Vegas animal lovers made an appearance.Event organizers reported that 250 adoptions were completed at the shelters participating in the event. The retail area boasted around 30 pet businesses, selling everything from leashes to grooming services. The dogs, and a few cats, cooled off in the puppy pools at the Doggie Watering Area and soaked their owners with rapid shakes, while some animals stopped by the "Those Left Behind Vaccination Clinic" to make sure they were up to date on their shots.
"Pet-A-Palooza was exciting! My cat was able to enjoy himself with the treats and I got to choose from a variety of food," freshman Kaitlin Eure said.
For pet owners, there were multiple chow down spots featuring cuisine from Panda Express and Dickies. There was also the entertainment from Doggie District Pet Resort Dock Dogs who featured high flying pups and musical acts included Matt Nathanson, Graffiti 6, American Idol contestant-Haley Reinhart, Kris Allen, and Youtube sensations, Megan and Liz.
"I had a blast at Pet-A-Palooza! Although it was extremely hot, the performers were amazing and my dog had a good time," sophomore Sofia Valles said.
Admission discounts were offered to those donated pet food to 1-800-GOT-JUNK. The boxes were delivered to the animal rescues participating at Pet-A-Palooza.
Overall, Pet-A-Palooza was an enjoyable, entertaining and lively event. It was perfect for music lovers and their leashed pets because they were given the opportunity to watch their favorite musician perform at a super affordable price. At the end, people and their pets left exhilarated, although sweaty, and many left with a new addition to their family.