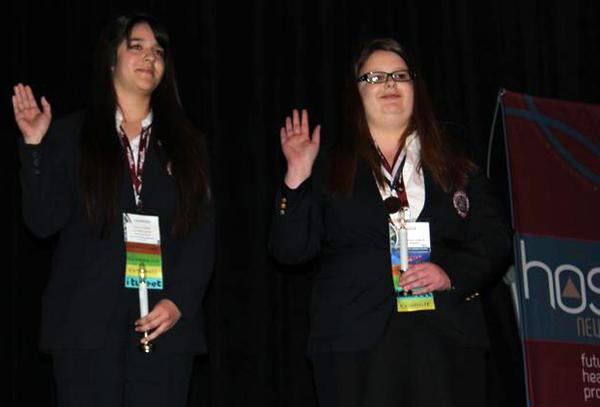 By the end of the Nevada HOSA State Leadership Conference, senior Jessica Wolf was selected as Nevada HOSA's Post-Secondary Vice President and junior Casandra Carrasco is now Nevada HOSA's 2nd Vice President. They are now part of the five member Nevada HOSA state officer team.
"It feels amazing to know that I will be a part of this state officer team for Nevada HOSA 2013-2014. I can't wait to start working with the girls to get ready for Nationals in Nashville, Tennessee this year. I hope I can do as great of a job as the former officers," Carrasco said.
In order to become a state officer, both students had to send in a complete application on March 1. During the conference, they made a speech, were interviewed, and took an exam that required a 70% pass rate. They were slated against other candidates, and a voting delegate committee of 34 Nevada HOSA members voted for the new state officers.
"It feels great to be a state officer because now I can change things I may not have been able to have a say in. I plan on starting a chapter at UNLV so that kids who do not want to go to UNR can still join HOSA and get the same experience as someone who did not go to UNR," Wolf said.
Both students were notified they had won on March 19, at the very end of the Grand Awards Session. From this point forward, they will represent Nevada HOSA at various conferences, leadership trainings, and legislative visits.
"There were many other candidates that I believe were more than worthy of my position. My name being called was the most shocking moment of the entire trip," Carrasco said.