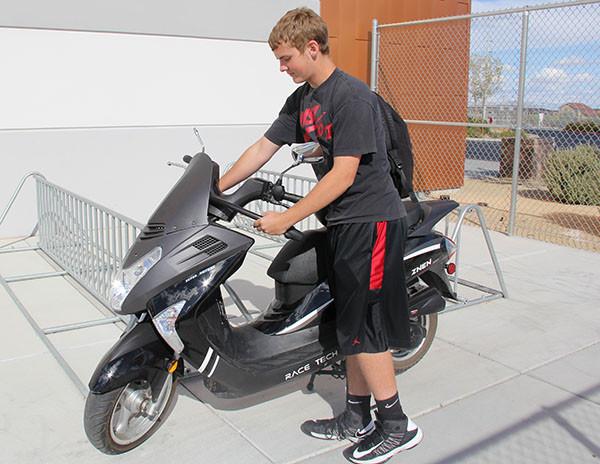 A new Nevada law commenced on Oct. 1, which allows motorcycle riders and other similar vehicles such as mopeds, bicycles, and trimobile bikers to proceed through red lights.
"I just hope everybody uses the road safely, abide by all traffic laws, and be courteous to other motorists that drive different from them," Automotive Technology instructor Mr. Randall Raha said.
According to The Nevada Highway Patrol, Assembly Bill 117, motorcycles and other similar users can pass through red lights, because signals have a harder time sensing metal on motorcycles and other similar vehicles.
"As a bicyclist, I suppose it's a good idea, because sometimes I'm waiting 10-15 minutes at a light waiting for a car to come and change the signal," Community Partnership Coordinator Mr. Craig Statucki said.
Users must yield and wait two rounds of signals without a green light before crossing a red light.
"Since I ride a bike, I guess it'll save me time in the morning," freshman Devin O'Malley said.
As stated by the NHTSA Traffic Safety Facts, in 2011, 38,000 bicyclists were killed in an accident involving an automobile.
"I think the new law will cause the death rates to increase, because if people think they have the right of way during a red light, and they're not paying attention, they could get hit by a car," senior Bryann Pluta said.
Additionally, 15% of these major fatalities are riders under the age of 16, and a bike rider is killed every six hours in the United States.
"I think it was redundant to pass this law, because there will be more deaths and accidents between car drivers and bicyclists," senior Kyle Isaguirre said.
With this new law in effect, motorcyclists and other similar bike riders are still learning about the red light cycle rule.
"I think this new law is a good law, because as a motorcyclist, I think that if you're responsible enough then you can cross the road safely. Hopefully if they do a good job on promoting the law then other drivers will know about it," Entertainment Engineering instructor Mr. Angelo Pappano said.