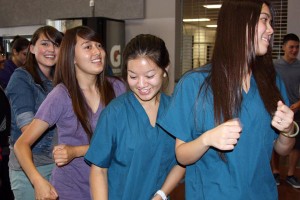 National Honor's Society had its first meeting of the year, which was a social, held from 2:00 to 3:00 p.m. on Sept. 5 in the cafeteria.
"It was exciting to once again be reunited with all the officers and awesome to be able to see all the members gather together as we start off a new year," NHS Treasurer Donovan Ly said.
Members were reminded of the rules, received new volunteer hour sheets, and informed of volunteer and work opportunities coming up.
Later on, members participated in ice breakers, such as "I love my neighbor who…" Students would choose a characteristic common amongst the crowd and those who identified with it had to trade spots with another person. After the ice breakers, members ate ice cream sandwiches and conversed with their friends.

Loading ...
"It went well as everything worked out as planned. I think the ice breaker we did was a great activity for everyone to get to know more about each other and it was a way for everyone to have fun in the meeting," NHS Secretary Katrina Solangon said.