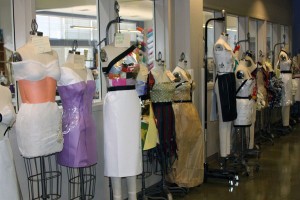 Juniors in Mrs. Cassandra Pawling's Fashion Design Construction III class were assigned recently to create their own outfit using materials from around the design room. Students were not allowed to use any fabric and were placed in a random group of three.
"I thought having the students placed in random groups helped them see how well they work with students that they are unfamiliar with. It was a good way to have the students interact with each other and see what ideas each other had to give for the project," Pawling said.
First, they watched an episode of Project Runway, where designers created an outfit using candy and materials that they found around the room. After watching this episode, Pawling's students went straight to work.
"I thought that watching the episode of Project Runway was a great lead into the assignment. It gave us an idea for how to design our outfit and also an idea on what materials we could use," junior Alexis Kenney said.
After meeting with their group members, students brainstormed design ideas. Pawling then gave the students one hour to put their garments together and pin all the items onto a mannequin to construct their outfit. During the hour, students scavenged to find materials such as magazines, string, shoulder pads, white paper, velcro, and anything else that did not have fabric.

Loading ...
"Working in a limited amount of time with random group members was a great way to see what other students' ideas were and how I we can combine our ideas together. It was a great creative team work activity," junior Amber Samiano said.
When the hour was done, the students displayed their projects in front of the fashion room for everyone to see. After two days, Pawling announced the two winning groups. The winners were Dymond-Slater Goods, Mayra Valera, and Celeste Kochan from period 3 and Alexis Kenney and Terri Dang from period 4. The groups received a Fashion Institute of Design and Merchandising 12-13 calendar as their prize.