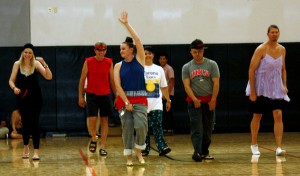 Student Council coordinated the first assembly to welcome the Class of 2016 freshmen to SWCTA on Aug. 30 during 7th period.
"The introduction really made me feel welcomed to this school. I felt happy and excited knowing that freshman year is going to be totally different form middle school," freshman Ruffa Fortin said.
The school faculty shared the basic rules for the school year, which included the bell schedule, tardies, and bus schedules. The senior, junior, and sophomore student council introduced the freshmen students to their freshmen StuCo members.
"I thought that having the upperclassmen StuCo members would give a feel for the freshmen on how much fun the school can be and also to show that upperclassmen aren't as intimidating as they appear to be in movies and shows," junior Andrea Salazar said.
After informing the freshmen students about the basic rules of the school, StuCo prepared a "No-No" fashion show displaying the do's and don'ts of the school dress code for the year. Teachers that participated in the fashion show were Mrs. Miriya Julian, Mr. Dennis Goode, Mrs. Laura Penrod, Mr. Jeffrey Ball, Mr. Angelo Pappano, and Mrs. Jacqueline Stroup.
"I liked the fashion show. It was really entertaining and it felt like the school was full of fun and excitement," freshman Serena Torres said.
The final event for the freshmen assembly was the "find your partner" game. The sophomore StuCo members handed out cut-outs of paw prints and coyotes, which were each labeled with a different number. Each number matched another student and students had to find the person who had the same number as them. The freshmen participated in this game to meet and interact with other freshman.

Loading ...
"I liked everything about the "find your partner" activity. I met new people while trying to find my partner and I also ran into students who I went to middle school with. I think StuCo put together a great assembly," freshman Rebeca Coria said.
This assembly gave the freshmen a warm welcome to their upcoming high school years at SWCTA. The next upcoming assembly will be held in October for Homecoming.