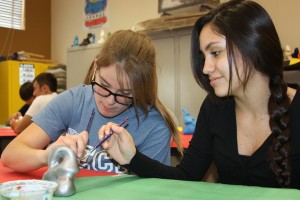 Art teacher Mr. Jared Ogden's students have been using plaster, water, nylon, and paint to create abstract sculptures.
"The process for creating the sculpture is specific, but the overall end product is totally up to the student. They had no guidelines, which allowed them to do whatever their imagination could conceive. Most of my students really seem to enjoy the project," Ogden said.
Students created their sculpture by combining plaster with water and mixing the ingredients together. The mixture was then poured into a nylon stocking, where excess moisture was rung out. The students used their hands to form the sculpture until it dried, sanded and painted their sculpture to their own personal liking.
"I had no real idea what my plans were in making my sculpture. I just did what felt right. It's coming out way better than I expected. I had a ton of fun creating my sculpture and cannot wait until we finish the project, so that I can bring it home," sophomore Jack Hale said.

Loading ...
The final sculptures will be displayed at the end of the "C" building hallway in the art showcase after Dec. 6.
"I feel that I can express myself through art. Art is something that anyone can do and it is a great way to pass the time and immerse yourself into something productive," freshman Danielle Frahm said.