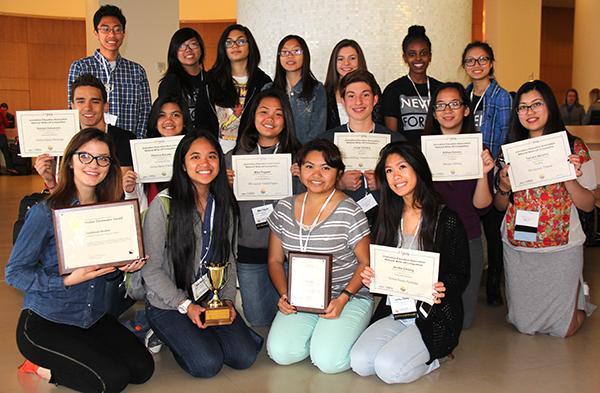 At the Journalism Education Association (JEA) and National Scholastic Press Association (NSPA) National High School Convention, "Making Waves," in San Diego, Calif., the online news staff of the Southwest Shadow was awarded with an Online Pacemaker award, 1st place ranking for "Best in Show" category for Publications Website – Small School and seven individual writeoff awards.
"I am beyond proud of my staff and am humbled as an adviser to know that informing our community and doing our job can also be recognized with such a prestigious award," adviser Mr. Matthew LaPorte said.
After receiving a Pacemaker finalist award, the staff was finally awarded with a plaque stating its designation as an NSPA Online Pacemaker, the first of its kind for the state of Nevada. The last Pacemaker award was given in 2000 to Basic High School's El Lobo yearbook.
"Winning the Pacemaker was unlike anything the team has experienced. Once our name was called, I experienced such a rush. I still cannot believe it happened, and not enough words could describe how proud I am of the staff," Southwest Shadow Editor-in-Chief Alexandra Nedelcu said.
Additionally, the SWCTA Southwest Shadow online news staff and The Howl yearbook staff competed in the JEA Writeoffs. 1,200 students participated and 20% were honored. They earned the following:
Online News Package (Honorable Mention) – Jenika Chiang, Danijel Zekanovic, Patricia Ascano
Yearbook Inside Pages (Honorable Mention) – Shamaeka Pagado
Yearbook Theme (Excellent) – Tamara Navarro
News Editing/Headline Writing (Excellent) – Jorge Carrera
Review Writing (Excellent) – Maria-Althea Gevero
"After all those nights staying at school until 6 or 7 at night, winning that award was just the crowning moment for my trip. I was ecstatic and proud to represent my school through this award," The Howl Editor-in-Chief Tamara Navarro said.