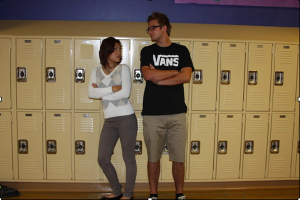 PAnDA Fridays will begin this Friday to provide an opportunity for healthy competition between the professional and design academies.
"We're doing PAnDA Fridays to continue to fuel the competitive spirit here at SWCTA. Students really seem to enjoy competitions between the academies, and PAnDA Fridays is being done to promote that," said Student Council Director Mrs. Miriya Julian.
On Friday, Professional Academy is to wear black while Design Academy is to wear white. This helps to determine which academy each student is rooting for throughout the day.
"This Friday activity we hope to raise more spirit with friendly competition between the two academies," said junior Lacey Long.
Lunch competitions will be taking place during both lunches to help determine which academy will win. Games such as Marshmallow Shoot, Butt Bounce, and Basket Toss are just a few of the games to participate in. Points are based on the lunch competitions, and that academy who dominates will receive a poster in the cafeteria to declare their victory!
"I'm hoping that PAnDA Day is successful because it gives us students a chance to compete against the different academy to see who is 'better.' Plus it's something new for students to look forward too," said freshman Brook Ounphonchareune.
If PAnDA Friday is a success, you can look forward to more friendly competitions throughout the upcoming school year.