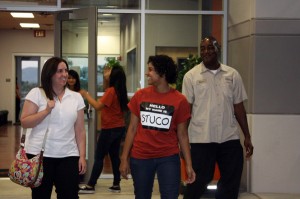 On Oct. 4, Southwest Career and Technical Academy held its annual open house and gave parents and guardians the opportunity to meet their student's teachers and tour the campus. The event started promptly at 6:00 P.M.
"Being prepared eases the moment for some teachers, especially teachers like me who are very nervous with meeting the children's parents," said Algebra teacher Ms. Morena Abrego.
Guests followed their child's class schedule, which guided them from class to class. The schedule was as follows: five minutes for mentorship, four minutes between each period, and seven minutes in each class.
"I really enjoyed going to open house because I got a chance to tour the parents and also show them how wonderful the teachers and students are here at SWCTA," said sophomore Pauline Nguyen.
Student Council members were on campus setting up before open house and as tour guides during the event. They helped anyone with questions about class locations and the school in general.
"I think open house is a great idea because it gives the freshmen parents the great experience touring the campus and meeting the wonderful teachers we have here at SWCTA," said sophomore Carlos Pena-Mencias.
SWCTA holds two annual open houses. This event was strictly for attending students. The next open house will be on January 10, 2013 for interested incoming freshmen.

Loading ...