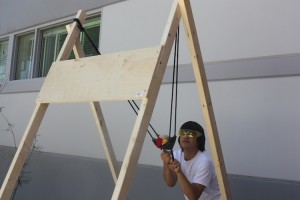 After three weeks of preparation, students in Mrs. Elisabeth Williams' physics classes at Southwest Career and Technical Academy presented an exhibit of their latest project based learning experience on May 9th and 10th. The theme of the PBL was "The Physics of…" and allowed students to choose their own topic that interested them.
"In listening to the students talking about their PBLs, I noticed that they liked a lot of things but wanted more say in what a project should be like. By allowing them to choose their own topic, I really wanted them to see how to connect science to something that they would usually be interested in," Williams said.
Students had to pick a topic and find all "the physics of" that certain topic. For example, a student researching the physics of skateboarding found information about gravity, energy, and force used in performing certain tricks. Criteria set for the project included a four to eight page report and a visual.
"I thought everyone had a lot of fun doing the project because it allowed them to research about something of their choice. Almost everyone had a different topic and it highlighted their own personal interests, making them seem more like an individual," junior Josephine Baltazar said.
Williams also allowed for individuality and creativity within the PBL by permitting students to choose what they wanted to present as their visual. They could choose from Powerpoints, Prezis, poster boards, models, etc.  During the gallery walk presentation, other students and teachers walked around from table to table looking at different presentations to hear about topics they were interested in.
"I was more than impressed with what the kids did. They put in a lot of work. They hit my goal which was for them to learn something about something that they love," Williams said.