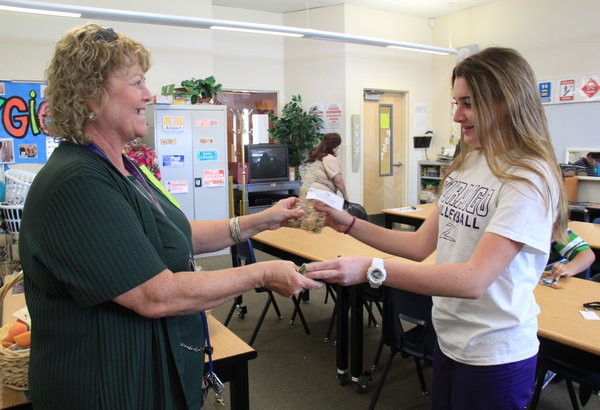 Post-secondary Opportunities for Students in Transition (POST) instructor Dr. Allenda Zionch is hosting a "POST puppy treats" fundraiser in order to raise money for Community Based Instruction (CBI). Each puppy treat is sold for $1.
"The funds that are raised here are used for the students on things that the school budget and district will not pay for," Zionch said.
The money collected will offset the cost for field trips that are scheduled twice every week. The trips are meant to give the students the chance to learn from their experiences by exposing them to the community and outside cultures.
"They vary from tours where they look for potential jobs and potential vocational training. Other trips involve experiencing things and to be seen because the more people with disabilities are seen helps lessens stigmas against them," Zionch said.
Students may purchase the puppy treats in room B213 at any time of the day or visit Zionch and her students in the cafeteria during first lunch.
"The students measure the [ingredients] out, so they get practice measuring, turning the oven on and pressing the dog bone cookie cutter, " Zionch said.
Made by the students in the culinary kitchen facility, the treats are composed of whole wheat and white flour, peanut butter, canola oil and water. The formula was created by Zionch in August.
"We do it Mondays, Wednesdays and Fridays depending on how much we sell," Special Programs Teacher Assistant Lucia Becerril said.
In addition, students who wish to help bake the treats can see Zionch and Becerril in room B213.
"I would love to volunteer and help out the students and the community. I try to help out whenever I can," junior Kyle Tan said.