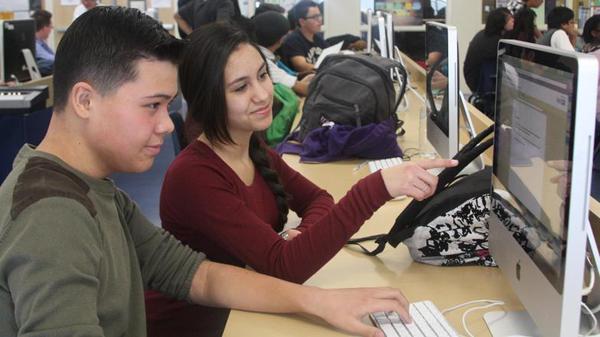 The appropriately titled "Imagine Tomorrow" Conference for this year's Web Design and Video Game Technologies Spring PBL is focused on the 6th and 7th grade middle school girls, or the "Girls in Tech."
"The 'Girls In Tech' PBL is a great project because it stresses that stereotypical gender roles should not be a factor in deciding the career a person wants to pursue. Hopefully our project inspires theses girls to try something new to see if they can excel and possibly try going for a technologically based career in the future!" sophomore Tyler Paraiso said.
During the conference 6th and 7th grade middle school girls from Wilbur & Theresa Faiss Middle School and also Canarelli Middle School will be visiting the campus and engaging in the various workshops that will be presented by the sophomores and juniors who created the activities. Each workshop will last about a half an hour.
"I look forward to making students see something as a QR code or coding as a potential medium of art," sophomore Erick-Francis Barrera said.
For this project, there will be workshop teams, exhibition halls, and mobile app teams. The workshop teams will be responsible for various tasks from checking in the middle schoolers to the mobile app groups will be creating all of the parts in order to make a functioning app.
"I think it will be hard to encourage the middle school girls because most kids are pretty advanced in technology, so trying to find a way to get them interested in things they already know is challenging. Trying to find a fun way to teach them about technology is also very challenging to keep them focused on the lesson," junior Dakota Jacobsen said.
During the conference, the middle school girls will be learning the process of creating an app. Additionally, the seniors will be organizing the whole conference, instead of presenting to the middle schoolers.
"I'm in the Ipad Mobile Team and I'm responsible for assigning the tasks for each member and making sure they are informed and up to date about the project, " sophomore Phichapa Tippawang said.

Loading ...
Students will be working on this PBL up until the actual conference on March 21 and March 22.
"Overall, I think that everyone will enjoy the conference because the middle schoolers will be doing fun activities that will teach them something and the SWCTA kids will be in charge and running the show, which I think, will make them very happy," sophomore Sabriya Said said.