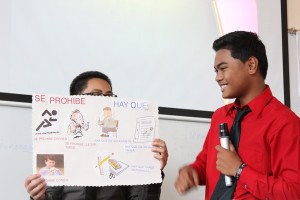 Mr. Nathan Jayme assigned an individual project to his Spanish II Honors students that allowed them to play the role of principal and create their own rules to practice and understand vocabulary terms.
"The purpose of this week's oral presentation "Director(a) por un día" allows each student to be principal for a day in their own respective schools. It is a creative writing assignment that allows students to implement vocabulary in the classroom," Jayme said.
Students had to create posters that listed six rules of the class. Three of the rules had to start with "Hay que…" which means "You must" and three other rules had to include "Se prohibe…" which translates to "It's forbidden to."
"I liked being able to see the creativity of other people. It benefited my presentation skills because other students could comment on what they thought was good and what they thought was bad," sophomore Tomika Aoshima said.

Loading ...
After creating the project, students had to present their posters, which they had approximately a week to complete.
"From the students that we have seen so far, they were praised for their preparation, attention to detail and expressionism in the poster that assisted their instruction. I look forward to this activity every year because it gives me an opportunity to get to know the students at a personal level as they present in an individual fashion," Jayme said.