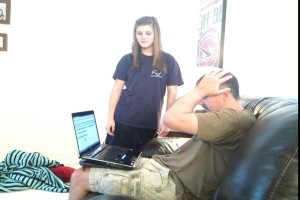 Throughout the world, students and parents access ParentLink or similar online grade-checking programs on a regular basis, myself included. These programs are designed to allow teachers to update grades online and be readily available for the parent and student to view.
Parents like these programs because they can monitor their student's current progress and pinpoint areas where the student is struggling. For example, if the student constantly shows poor understanding of "Linear Systems" in algebra, then parents can help him or her in that specific area. Also, they can see when their student has missing assignments and they can take action before they miss too many.
However, I think that Parentlink shouldn't be "ParentLink," but "StudentLink." Parents constantly login to view updated grades, however teachers are only required to update weekly. Parents can start to pressure their kids to fix their grades once they see the same grades over and over for a period of time. "StudentLink" would be a site where students could log on and see their grades and assignments. They would be able to contact teachers from the site without having to open other web pages. It would be a simple site with an "easy-to-use" interface so that students don't struggle with it and stop checking their grades. Parentlink causes a lot of anxiety for students.
To decrease the stress level of students, I believe only the students should have the ability to access their own grades to help them stay on top of their classes and to keep track of assignments. StudentLink can teach responsibility because if the student knows the consequence of having poor grades, they will then work for the reward of achieving good grades. This causes students to be more consistent with turning in every assignment to be able to go out and have fun.

Loading ...
My parents are very strict regarding grades–even a high "C" or low "B" upsets them.  I learned this the hard way. Throughout the past two weeks, I was denied the privilege of going to the movies to see "Wreck it Ralph," as well as going to the park on Election Day, when we had a day off of school to allow teachers to vote. I felt like my parents were being unfair, and while they had their point, I wanted to be right. I have repeatedly told my parents that I want to be able to handle my grades; doing my assignments and being on top of my classes are my responsibility.
Progress reports and report cards are designed for parents, so they shouldn't need the constant updates. Grades don't measure how intelligent you are, they measure how well you do on tests and homework. Some days I may struggle with my work, but that doesn't mean that my ParentLink grades should dictate my life.