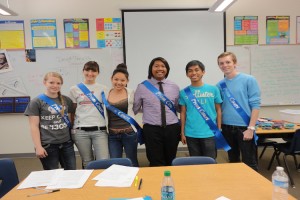 On May 4, Southwest Career and Technical Academy announced its first royalty court for the 2012 Prom to the student body.  Nominations were held during the week of April 30, and a total of three nominees have been selected in each category.
"The nominees for the junior class' royalty court are as follows: Cameron Rowland, Riese Warring, and Jon Dulay as the princes, and the princesses are Stephanie Stewart, Lacey Long, and Mimi Xu," senior Gerard Cana said.
Candidates for Prom kings are Christopher Bradley, Patrick Alejaga, and Parker Green.  The queens' court consists of Kendall Pitts, Selena Castro, and Corey Tyndall.
"I am honored to be part of prom court!  Even if I don't win King, I am glad to be a nominee," Alejaga said.
The nominees are required to attend a short meeting with Mrs. Miriya Julian during lunch today in room D105.  Winners will be crowned on May 12 during Prom.