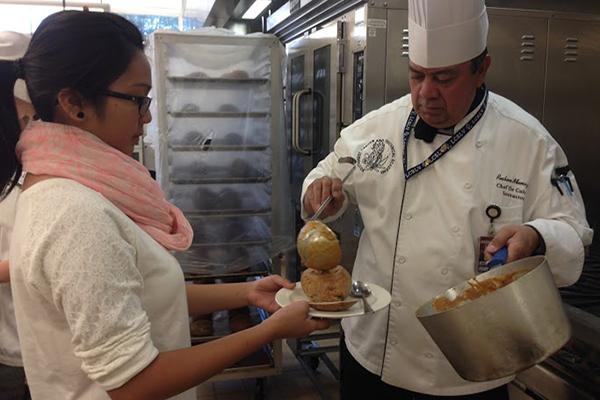 With the temperature dropping and the seasons transitioning, your wardrobe isn't the only thing changing. Ending their knife skills lessons, the Culinary Arts sophomores and juniors moved into their soup unit with pumpkin as the main ingredient.
"It's the start of autumn, and everybody's going to be looking for a nice hot meal aside from eating pastries or drinking coffees. The students will be working on our first winter soup which is an apple bacon crumble pumpkin soup," Chef Ruben Munoz said.
Dividing up the preparation task, one culinary class was placed in charge of making the bread bowls, while the other class focused just on making the pumpkin soup.
"One of my goals is for them to be prepared into the industry. They have to taste, they have to feel, they have to touch. And one of my goals is that to become a great chef, you have to taste what you're making. That way you have the option of following the recipe or adding your own ingredients," Munoz said.
The entire project took three days to complete, and afterwards the students got to enjoy their meal. After taking a taste test on the dish, the junior and sophomore class gathered around to hollow out their bowls, and have chef serve them their creation.
"The only problem was flavoring, and it was a little plain. But other than that it was fine I think the sophomores did a good job with the soup,"  junior Anna Race said.
Ending their first hearty winter dish, the classes will continue with their soup unit with another classic winter dish yet to be announced.