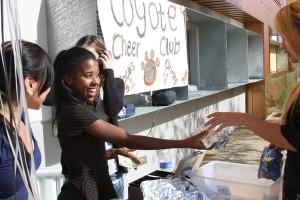 After last year's nutritional guideline revisions in CCSD schools took place, Qdoba was removed from selling their products during lunch. The tacos are now available for purchase after the company was approved by CCSD Food Services.
"We brought Qdoba back into the school as a fundraiser for our new Coyote Cheer Squad," Cheerleading Club adviser Mrs. Sheila Petrosky said.
Chicken tacos will be sold during lunch outside of the fashion classroom every Wednesday. They will also sell Capri Sun. Both items are $1 each.
"The students really like Qdoba and are excited to see it return to our school lunch offering. The tacos are always a hit for students and teachers," Mrs. Cindi Chang said.
The first event that the cheerleaders will wear their new uniforms to will be performing at the  Maaco Bowl Game on Dec 22nd at Sam Boyd Stadium.
"Every Wednesday just bring your money and make a purchase directly from a member of the cheer squad," sophomore Meya Holmes said.