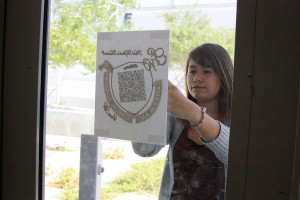 Although Quick Response barcodes have only been used in the United States for a few years, it is an accelerating technological trend. Sophomores in Ms. Cindi Chang's Website Science I class were assigned a project on Sept. 11 that will require students to create and update all of the QR codes that are currently on the doors of each building and classrooms.
"I first saw QR codes when I went to a summer conference and then after that, I started seeing them everywhere. I started to wonder how they could be used for education, so I did my research and found some great ideas," Chang said.
The purpose of this project is to teach the students how to create/update QR codes and help out the school. To succeed, the students will have to use their previous knowledge of Adobe Photoshop and Illustrator.
"I'm very excited for this project! I saw the kids in the previous year doing it and I always thought it was cool. I'm also excited for the fact that soon, I will get to point it out to people and say 'Look! I did that," sophomore Sabriya Said said.
This first major project for the sophomores is putting their creativity and collaboration skills to the test. For this project, the students will have to interview a teacher and create a customized QR code for them based on the courses that they teach and  their personality.

Loading ...
"I think that I will start to use them because they will start to become more popular and important in our society as technology enhances," sophomore Bailey Jones said.
The new QR codes will be up and ready to scan by Open House on Oct. 4. For more information regarding this project, visit Ms. Cindi Chang in room C126.