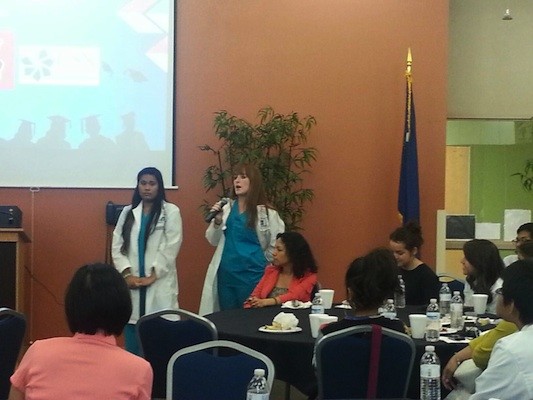 Senior respiratory therapy students held their capstone presentation on Apr. 23 from 5 p.m. to 8 p.m. in the Coyote Ballroom. Students presented a PowerPoint describing their job shadowing experience, along with their future goals after graduation.
"I really enjoyed capstone night! I was nervous to present at first, but as soon as I was in front of everyone, I knew what to say. I'm glad I was able to share my awesome experiences with my parents and the school," senior Kristal Raquel said.
Seniors finalized their capstones on Apr. 21 and 22 with mock runs of their PowerPoints in class. Along with a PowerPoint, students were required to create a brochure and poster board representing the respiratory therapy program for future recruitment opportunities, which was showcased on capstone night.
"We each had to complete 60 hours of job shadowing at a hospital, long term care facility, or a veterinarian office to finish our capstone and present it. Even though putting everything together for our capstone presentation was hard, I still enjoyed myself and I honestly learned a lot about my future career," senior Victoria Avalos said.
Each presentation was mandated to be 15 minutes long and students were placed in groups of four to five, making a total of seven groups. The presentation consisted of: the six tenets, the school mission statement, job shadowing experiences, goals after high school, and skills learned from respiratory therapy.
"Junior respiratory therapy students planned, decorated, and hosted the capstone presentation night. Without their help, our night would not have been as special. Overall, we learned a lot as students and our capstone helped lead us in the direction of our future careers," senior Michelle Tostes said.
At the end of all the presentations, respiratory therapy teacher Mrs. Vicki Smith awarded each student with a certificate of completion for the four year respiratory therapy course. After the award ceremony, the senior class surprised Smith with a video thanking her for teaching them and gave her a bouquet of flowers to end the night.
"We decided to surprise Mrs. Smith because she has done so much for us in these four years that she deserved recognition and appreciation for everything she's helped us with. Without her, this program and our capstone night would not have been amazing," senior Kinsey Wagner said.