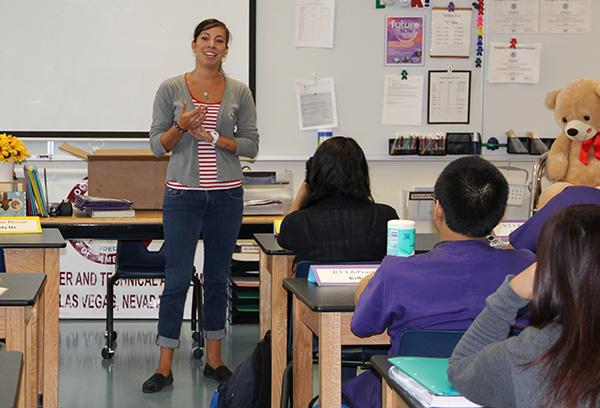 A $1500 grant could be awarded to the junior and senior Respiratory Therapy Club from the Evolvement program if the new members complete 20 campaign projects from the program.
"The Evolvement program and grant through the Nevada Health District is a great way for students to become involved in the lives of their loved ones. It enables students to learn about tobacco education as well as provides opportunities for scholarships and rewards that could be used towards college expenses," Respiratory Therapy teacher Mrs. Vicki Smith said.
With the grant, the only campaign projects that will count for points are dependent upon the new members, the junior class. The projects currently are anti-tobacco campaigns as In the Clear, Right to Breathe, Counter Balance, and 24/7 to bring awareness to the community about secondhand smoke.
"I think it's a win-win for everybody, because it gives the seniors a chance to help the juniors complete their projects," Evolvement Program coordinator Nikki Antos said.
Even though the projects that the senior class members complete do not count towards the grant, it will still be counted for points towards individual awards, such as gift cards and scholarships, offered by the Evolvement program.
"I believe that the grant being offered for the juniors is an amazing opportunity that does not come everyday. So hopefully the juniors step up and take advantage," senior Victoria Avalos said.
The Evolvement program recruits its members through existing student organizations, such as the Respiratory Therapy Club. Student and adult leaders from these organizations apply online to become part of the program.  Once accepted, students complete the training, an in-class session with a leader, and immediately begin working on individual projects to cause change in their community.
"Evolvement's members are passionate about improving our world, including world hunger, the environment, political corruption, and health. By fighting the tobacco industry and reducing how much America support these companies, we not only improve health, we also reduce deforestation, malnutrition and pollution," leaders from the Evolvement website said.
Throughout the year, organizations are rewarded with grant funds for their accomplishments. With the grant funds, organizations are able to use it towards anything such as community service, trips, or conferences. The Southern Nevada Health District's Office of Chronic Disease Prevention and Health Promotion provides funding for Evolvement efforts in Southern Nevada.
"Through a united effort, campaign outcomes are achieved and Evolvement causes positive social change in the community," Antos said.