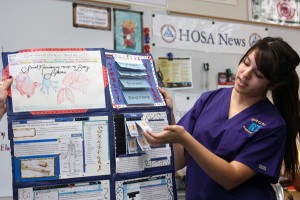 Junior respiratory therapy students in Mrs. Vicki Smith's class created a travel brochure of the eight different body systems and presented them on Sept. 6.
"The project was very fun. We got to travel through the human body with each team having a different theme. The best part of the project was researching the body systems and being able to creatively present it to the class," junior Shirley Siu said.
The tour of the body systems required students to choose a theme. The themes included by the six groups were Winnie the Pooh, Dragon Tales, Aladdin, Avengers, Pretty Little Liars, and Social Networking.
"I assigned this project as an fun and creative way to review the anatomy of the human body which the students learned in Health Science I and II," Smith said.
The key feature of this project was to provide an overall description of the structure and function of each of the eight systems.
"The body systems tour was a great project. It was a fun and creative way to review the body systems without a whole bunch of book work," junior Anthony Paculan said.

Loading ...
A large brochure was required as a visual aid for the presentation and had to be folded into eight sections, front and back. Graphics, photographs of actual organs, and drawings were utilized to enhance the brochure.
"Our respiratory therapy project was a great starter and refresher for all the upcoming presentations we will have. We were able to get a more in-depth feel of what our body made up of apart from its outside appearance," junior Charlotte Pamintuan said.