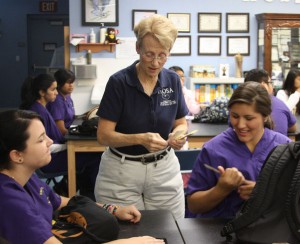 On October 8, Mrs. Vicki Smith's Respiratory Therapy students were congratulated on their success and were promised Fright Dome tickets along with a donut party.
"Winning the Fright Dome tickets was such a shock. We all worked as a team, came together as a class, and we were awarded tickets that would've cost us about $30 and a donut party," junior Michelle Tostes said.
On Sep. 24, all junior program area classes were challenged to encourage everyone in their class to turn in their PSAT enrollment forms along with the $16 fee to win free Fright Dome Tickets for the entire class including the teacher.
"The class worked as a team to sign up for the PSATs to win the Fright Dome tickets. Some students even came together to pay the fee for the PSATs just so the class could win the tickets," Respiratory Therapy I teacher Mrs. Vicki Smith said.

Loading ...
Smith and her class plan to visit the Fright Dome on Oct. 19 from 8 p.m. to 11:30 p.m. However, students are allowed to request a date to use their ticket if they are not able to make it.
"In my opinion, this competition brought our class together. The moment we heard about the challenge, our class went wild. We rushed all over and reminded each other about the money and the form that needed to be filled out by next class to sign up for the PSAT. We worked as a team and we were well rewarded," junior Shirley Siu said.