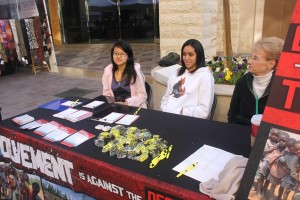 On Nov. 17 at Tivoli Village from 8-10 a.m., students passed out cards about the tobacco awareness program, Evolvement, educating people regarding the dangers of smoking.
"It was a lot of fun explaining to people about the awareness of smoking and its cool to see that some people actually paid attention to what we were saying and agree with us," junior Kenneth Faccinto said.
When shoppers around Tivoli Village signed a card, they were given a wristband that had the Evolvement website on it and the the word 'Evolvement' in bold capital letters.
"I thought it was fun because we got to see others people reactions to it and what their opinions were on smoking," junior Joseph Alturo said.
This is the second project day that Respiratory Therapy students have set up and informed others about smoking dangers and the health consequences regarding smoking. The first was at the UNLV campus on Nov. 11.

Loading ...
"I think when people see the bracelets that we handed out, it will give them a reminder of what we told them today and maybe even pass it on to others the awareness of the damages smoking does to you," junior Merycon Baptista said.