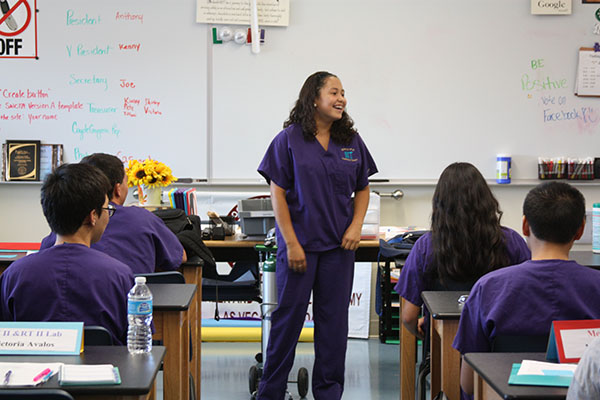 Respiratory Therapy club officers were elected on Sept. 4 by Mrs. Vicki Smith's Respiratory Therapy students during 6th period.
2013-2014 Respiratory Club officers:
President: Anthony Paculan
Vice President: Kenneth Faccinto
Secretary: Joseph Alturo
Treasurer: Shirley Siu
Coyote Congress Representatives: Rayden Sisomphou and Charlotte Pamintuan
Photographer: Casandra Carrasco
"I was the club president last year so I know that I can put my trust into our new club president to handle all executive decisions. I am thrilled with those that were elected for our senior year," senior Joanna Joseph said.
During the beginning of the class period, Smith allowed students to nominate classmates for specific positions. The nominees had the opportunity to accept or decline running for the position. After nominations were recorded, students then volunteered themselves for positions that were not filled.
"I thought the process of nominating club officers was a nice way to integrate the students opinions and ideas about who we thought was best fit for the position," senior Joshua Bednarczyk said.
Students that were volunteered and nominated gave speeches to the class explaining the characteristics that best qualifies them for the position. To decide which students would be elected, the class voted anonymously by writing the name of the person they wanted for each position on a post-it-note. Smith counted the votes and announced the officers.
"I am excited to be the Vice President of Respiratory Club because I've never had so much responsibility before and I'm looking forward to planning out the classes senior year events," Faccinto said.
The officers will help Smith organize events, handle club funds, and plan fundraisers. Their purpose this school year is to ensure students are informed of upcoming events and fundraisers regarding the club.
"I feel that each class is a family and that a better way to organize the class and workload is to elect officers to step up and help make our groups work cooperatively.  Teaching students to lead and facilitate their skills helps improve moral as well as give students a voice in what we do in the classroom," Smith said.