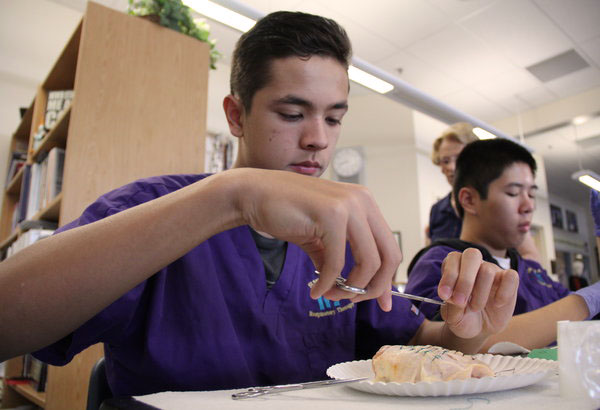 Juniors in Mrs. Vicki Smith's Respiratory Therapy class sutured chicken thighs to learn surgical knots today.
"After the guidelines were made for Respiratory Therapists, suturing was no longer in their scope of practice. Now, they are starting to give the ability to suture back in many states. Arizona and Colorado are the first two states that require Respiratory Therapists to suture," Smith said.
The students learned four different types of methods to tie a square knot: the square knot, one-handed square knot, two-handed square knot and the instrument tie.
"We learned different techniques to tie a knot because we would need to apply them in different situations depending on the availability of our hands. In a real life situation, you might have a tool in one hand, therefore, you would need to perform a one-handed square knot," junior Nino Nobleza said.
Each student was required to complete three of the four techniques and were graded upon their ability to perform each knot.
"I found the instrument tie to be the most practical tie in actual application because it's hard to do hand knots with gloves on. Emergency situations can occur at any given moment and suturing is a fundamental first aid skill, so it's good to learn," junior Brandon Hatch said.
Prior to suturing chickens, students in the class practiced by using ropes on suturing boards so that they could learn the proper techniques.
"Being able to take home the rope was beneficial because it helped me perfect the techniques we learned in class. Practicing every day helped me reinforce my skills and prepare me for the actual chicken thigh," junior Jonas Tambora said.
A group of students will be selected to teach eighth graders how to suture for their Winter PBL.
"After experiencing what we did today, I'm excited to teach eighth graders how to suture a chicken because it's a hands on experience that they will be able to perform, so hopefully they will learn how to suture correctly," junior Emily Yu said.