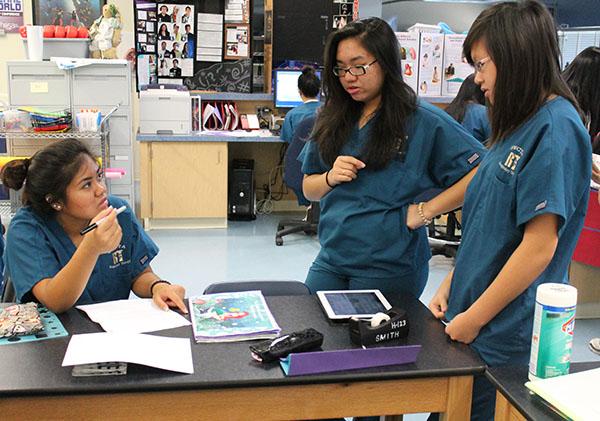 Already three weeks into the school year, Mrs. Vicki Smith has assigned her Respiratory Practices I class their second project. They were instructed to create a brochure that fully depicts the eight body systems: the immune, nervous, excretory, respiratory, circulatory, digestive, skeletal, and muscular systems.
"We had to make a huge brochure with different systems of the body. We were given strict instructions to make sure we had all components to get an 'A,'"  Junior Karen Santos said.
The class was given five class periods, to work on the research and creative aspects of the project. Each group of four to five students developed a theme for their brochure to personalize it. Students were given one extra day to practice their presentations and ensure brochures are finished.
"We were definitely given enough time for this project because we had the option of taking the project home, and either way, no task should have taken too long. The hardest part was creativity and piecing together the project, while the easiest part was actually the research," Junior Dragana Golub said.
Presentations took place on Sept. 17. While presenting, students used note cards to convey their knowledge of the body in a brief three to seven minute presentation.
"All the presentations were very lengthy, but it was also fun to look at all the themes and creative touch that each group added to their brochures," Junior Amina Djesevic said.