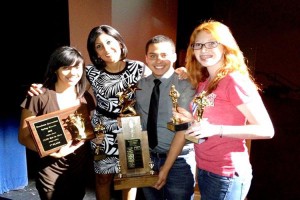 On May 22, Southwest Career and Technical Academy's Broadcast Journalism students attended the annual CCSD competition.
Seniors Matthew Lumagui, Bianca Ortiz, and Neil Andrew Aviendo received first place in "Best in Show" for an episode of their weekly Friday series, The Outlook. This episode discussed all about food, including recipes and vegan lifestyles. Judges commented on how they "digged deep" into the topic and complimented freshman studies teacher Mrs. Laura Penrod's for her willingness to share her story of battling obesity as a teen.
The Rout(e) 131 team won in several more categories at the competition.  Junior Jonathan Cervantes, junior Vincent Adrada, and senior Bianca Ortiz received first place overall for their daily news cast – Rout(e) 131.
Also winning an award, Junior Viviana Macias' story about SWCTA's male students playing volleyball at Sierra Vista high school came in second for best sports feature story.
Entering their DECA picnic tape, sophomore Parker Wojciechowski, Valari Esposito,and Candace Kozell placed third for best news story.
Lastly and with only one point away from second place, junior Dana Hackenberger, with the help of Mr. Rizzo's dogs Pedro and Samsung, won third place for her advertisement for prom in the best commercial category.