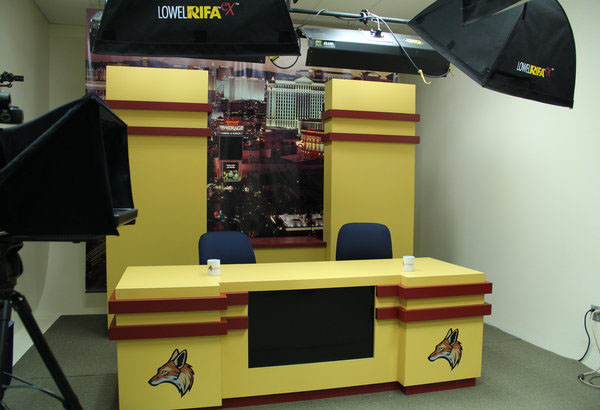 Inspired by an idea proposed by broadcast journalism adviser Mr. Tom Rizzo and news anchor Carlos Leyva, Rout(e) 131 received a donated set from an anonymous community donor.
"The new set is really going to bring new attention to Rout(e) 131, because it gets really boring to have to watch the same thing everyday," News Anchor Joseph Harvanek said.
The set was designed by senior Isaiah Macala and features the new school logo and a Las Vegas backdrop given to Rizzo from Levy Production Group. An idea from Channel 8 News sparked Rizzo's desire to install a television as a centerpiece that will display graphics and other footage on the new desk.
"It's just a professional set-up that adds more character to our show, a place to film announcements, and sometimes film wrap-arounds for our monthly show known as The Outlook," Leyva said.
Parts from the previous set will be used for other segments on the show. The desk from the old set is now being used by Nevada Learning Academy (previously known as Virtual High School) for a Video Production 1 class instructed by Rizzo.
"The old desk gives my students at Nevada Learning Academy something to use and practice with. The new desk will allow us to shoot more than two people at once," Rizzo said.
Due to complications in the past involving shooting wider angles, the Rout(e) 131 cast decided to paint its previous green screen walls white. A separate green screen curtain will be installed in the studio.
"Now that the walls are white, we can shoot better camera angles. When they were green, we had to zoom into our set," Rizzo said.
Renovating the studio allows Video Production to hopefully score some more points at the Broadcast Education Association's Festival of Media Arts. The cast will attend the festival in Nov. and will receive the results early next year.
"The new set will definitely give us opportunities and options to do a lot more this year," director Hannah Tonti said.