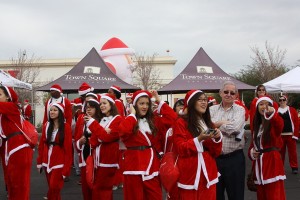 The annual Las Vegas Great Santa Run took place at Town Square in support of Opportunity Village's goal to raise money for individuals with disabilities in the Las Vegas community on Dec.1.
"My favorite parts of the Santa Run was when the skydrivers fell with their santa suits on and the actual walk itself was fun," junior Johana Mendoza said.
Over 8,200 participants attended the Santa Run. Las Vegas won, for the second year in a row, the World Santa Challenge to have the most people dressed as santa and raised over $400,000 for individuals with disabilities.
"I absolutely enjoyed the Santa Run and how everyone came together to help the wonderful cause of Opportunity Village," DECA adviser Mr. Perry Annett said.

Loading ...
As part of the event, Santa Skydivers jumped out of helicopters thousand of feet up in the air and local musicians also performed on-site.
"It was amazing how so many people were dedicated to this event. I was surprised about how many people were there! Besides, I got good exercise out of it," freshman Cindy Kim said