After learning that the master A/B calendar could be adjusted, the administration changed next week's semester exam schedule.
"We initially changed the schedule to fit our orchestra teacher's schedule because he goes in between our school and Northwest Tech to teach," Dean James Campbell said. "The day his class was going to take [the semester exams] at Northwest fell on the same day he was was supposed to administer them here so were able to find a teacher to substitute and proctor the exam for him."
Before the schedule was altered, the back to back 'B' days worked in favor of a few teachers, but for some, it was an inconvenience.
 "The schedule where we had the two 'B' days in a row would've messed up my personal schedule because I wanted to have enough time to study with each of my classes but it was changed back so I can move on with what I initially had in plan," Spanish teacher Geri Barnish said.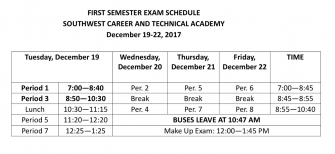 Unlike previous school years, students will take semester exams before Winter Break.
"Having the semester exams before Winter Break is better because students won't forget the information needed to complete them," Barnish said. "With this new exam schedule, students will remember what's needed to take exams and won't have stress about it and cram information into their brains like they use to when the exams were after break."
With the exams being taken before Winter Break, some students are relieved.
"I like how [the exams] are being taken before the break because I won't have to worry about it or stress about it like when it was after [the break] and we had one week to go over everything we forgot," sophomore Kathrina Bornios said.
[poller_master poll_id="476″ extra_class=""]