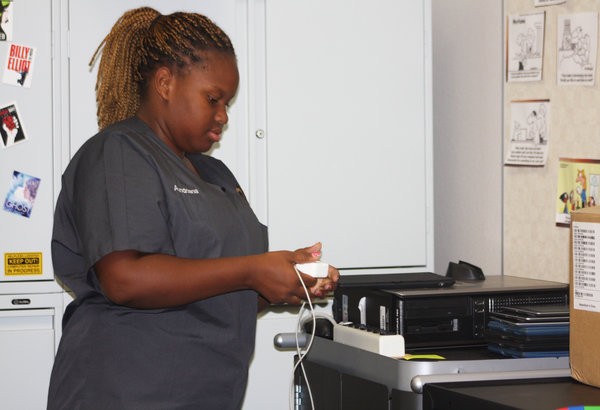 The first roll-out of iPad distribution began on Oct. 7 and can be picked up in room E136.
"We are an Apple Distinguished School, which means we are one to one. We have iPads for every junior and senior, if they desire," Dean Trish Taylor said.
Juniors and seniors who paid for their iPads last year will receive them before those who waited to pay this year. In total, 65 students have received their iPads.
"I was excited to get my iPad, especially after waiting for so long. It was really funny because everyone was freaking out about not getting their iPad yet and asking me why I had mine already," junior Destiny Wilson said.
In order to be eligible for an iPad, students must pay the $30 protection fee that covers insurance for any accidents that may occur.
"Upon loss or damage, you have to fill out a form. If you lose it and it's based on your negligence, you pay the full price to replace it," Educational Computer Strategist (ECS) Mrs. Stacy LeFevre said.
Students who receive an iPad are able to download apps of their choosing and sign in to their own Apple ID. The devices are equipped with pre-downloaded apps that program area teachers have requested.
"The only request that we have is if you're running out of space, delete your own apps before you delete ours," LeFevre said.
The second round of distribution is scheduled to take place on Oct. 13. Students who have questions and concerns regarding iPads can see LeFevre in room E136.
"I really appreciate the fact that the school issues iPads. It has helped me access school work much easier and quicker than doing it on a phone and the price to rent one for a whole year is very reasonable," senior Elaine Qian said.