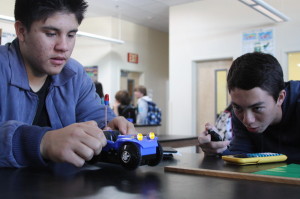 The annual science challenge took place today for every student enrolled in a science class today. Three different challenges had to be completed in the duration of one class period.
"Each challenge is filled with many tricks, finding out what they are is the hard part," Mr. Jonathan O'Brien said.
The first challenge dealt with chemistry concepts and finding the density of metals. The second challenge involved determining the species of plants in the courtyard of the school, for biology and geoscience. The third challenge was to find the velocity of a motorized car, a physics concept.
"This was a great experience and made the last few days fun before winter break," sophomore Michael Joseph said.
Each challenge was held in a different room: Ms. Jennifer Conder's lab, Mrs. Martha Horner's room, and Mrs. Elisabeth Williams's room. Students were paired in teams of professional and design academy freshman, sophomore, juniors, and seniors.

Loading ...
"It was a tough challenge but exciting to use the knowledge we learned previously," junior Julia Wenzinger said.