[vc_row][vc_column width="1/1″][vc_column_text]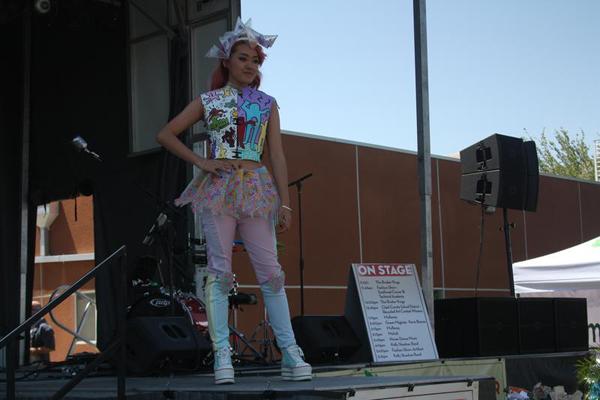 Costume designers in the class of 2013 participated in their last fashion show as high school students at the University of Nevada, Las Vegas for Greenfest and UNLV's Festival of Communities while promoting eco-friendly living on Apr. 20.
"It's bittersweet and I don't want my senior year to end, but this project was a lot of fun for my final assignment," senior Nicole Gronau said.
The project required each designer to create clothing out of recycled materials such as cups, plastic bags, and scrap material, instead of throwing them away. There were 12 designers in total that each showed one piece.
"I thought all the designs were really great, especially since they were made out of recycled materials," senior Jennifer Quintanilla said.
This nonprofit and winner-less runway show the senior costume designer's final show. It's purpose was to educate others of their carbon footprint and the art one can create out of trash. The "Starbucks" dress for example, was made completely of Starbucks products.
"It was a sentimental moment as it was my last show in school, but I was excited overall about its outcome," senior Sara Guiang said.
The seniors are now preparing for their prom and final projects before graduation.
"I was so happy after the show and I think it went really great," senior Julie Ann Diaz said.

Loading ...
[/vc_column_text][/vc_column][/vc_row]