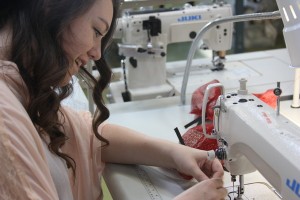 The seniors in Mrs. Cassandra Pawling's Fashion Design course have begun creating their product lines as part their senior capstone, which will be showcased at a fashion show next spring at Tivoli Village.
"My line is very exciting, since I'm basing mine on costume design. My garments will be circus-like, and I'll have my models dancing down the runway!" senior Cassidy Simpson said.
Each student is responsible for completing their own line. They will have until late May to work on their line, and will have materials such as fabric and sewing machines to complete their garments and outfits.
"I'm really excited to see how my garments turn out!" senior Christian Molina said.

Loading ...
The students auditioned models in late October, and their first garment is due December 13th.
"I think this project is very fun. We're getting the chance to showcase our own personal ideas!" senior Aleasha Green said.