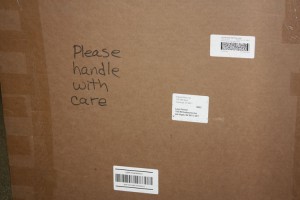 A marble rock will be purchased for SWCTA on behalf of the graduating class. The rock will be placed in the quad where students are welcome to see it.
"I'm looking forward to the seniors leaving a piece of their experience for other students to see on a daily basis," Freshman Studies Teacher and Class of 2012 Adviser Ms. Laura Penrod said.
No given date has been set for when the marble rock will be placed on campus, but Penrod hopes that it will occur during SWCTA's last assembly on May 25 before the school year is over.
"I can't wait to see the mark we made on the school when I come back to visit SWCTA," Dominique Viera said.
The senior gift will be an etched marble rock with a quote from Julius Ceasar carved into it, along with the class number.
"If I ever come back and visit SWCTA, I know that the rock will help me reminisce about my years when I attended this school," Camille Maniago said.
Penrod, along with several other teachers, have held fundraisers all year in order to raise money to pay for the marble rock, such as #onlyatsouthwest bracelets and class shirt sales.
"I'm happy and honored that we are the first graduating senior class to be giving a great gift to the school. One that can show our appreciation to what this school has done for us," Justin Soria said.