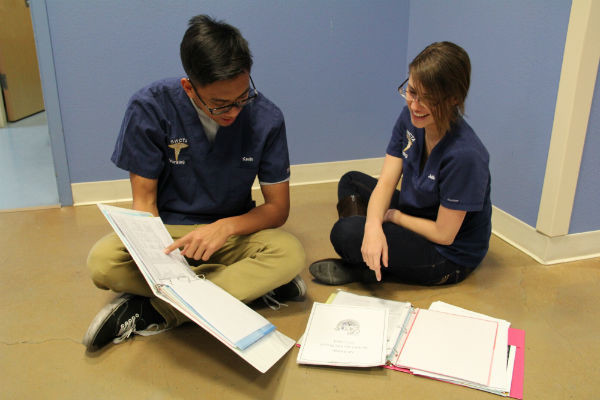 For the senior nursing program capstone project, nursing students will be participating in clinicals at the Veterans Administration Hospital in Boulder City, NV, starting the first of March to complete their 60 hours in order to graduate with a Medical Assistant (MA) Certification.
"I am extremely excited to work with patients at such a professional level," senior Julia Wenzinger said.
The requirements to partake in clinicals includes: two-step Tuberculosis Skin Test (PPD Test), updated vaccinations, and a certification from a licensed physician that declares the student to be free of any casually transmitted communicable disease.
"Working side-by-side with doctors and nurses will be such a rewarding experience. I cannot wait to start our senior capstone," senior Mariah Holmes said.
Currently, nursing students are practicing safety and infection control procedures such as handwashing and personal care procedures, such as bed making and analyzing vital signs in preparation for clinicals in the spring.
"It's crazy how fast this year is moving and clinicals are just around the corner. It will be a great way to end senior year," senior Reema Hassanieh said.
 Two months after graduation, nursing students are eligible to take a written test to obtain a Certified Nursing Assistant (CNA) Certification.
"I can't wait to further my experience in the nursing field through clinicals. I know I will learn a lot from having hands on experience with patients and doctors," senior Kevin Delacuadra said.