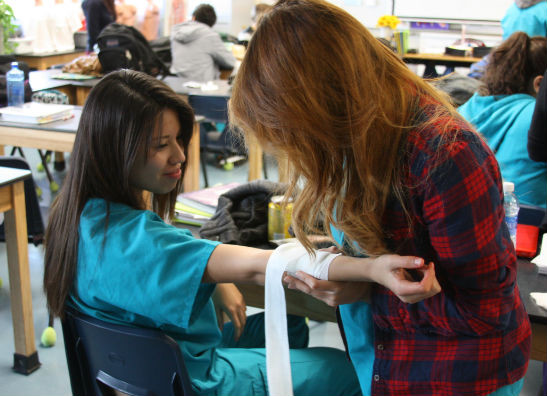 In order to further their knowledge of lifesaving, senior Respiratory Therapy students are participating in the American Heart Association Heartsaver First Aid Course. They began the course Oct. 23 and will continue until Nov. 8.
"This course provides a framework for learning basic skills that may save a life or prevent further injury," Respiratory Therapy teacher Mrs. Vicki Smith said.
Students are continuing to learn the essential first aid basics, medical emergencies, injury emergencies, and environmental emergencies. These topics are separated into sections including shock, bleeding you can see, fainting, nosebleeds, splinting, seizures, mouth injuries, tooth injuries, burns, heart attacks, stroke, electrical burns, low blood pressure, and diabetes.
"Learning first aid is essential to learn not only for the work force, but for life in general. It enables us to help anyone whenever and wherever our assistance is needed. It will be beneficial for the future because we will already have skills to be able to perform in emergency situations," senior Fatima Boumelhem said.
One of the techniques that students were able to practice was how to make a tourniquet in situations where someone is bleeding severely, such as an amputated body part.
"When we got to practice making tourniquets, I learned that they could be made from literally anything such as a belt or the string of a hoodie. I can also use a pencil or a screwdriver to twist the tourniquet. It is great to use for amputations or when someone is bleeding severely," senior John Park said.
The other technique that students practiced was how to splint a suspected broken bone on a victim. Students were able to use a straight edge of cardboard, which was placed under the injured limb.
"Learning how to splint a broken or severely injured limb is essential when knowing first aid. Most traumatic situations such as car wrecks include victims with broken bones and now I know how to keep the bone in place by splinting it," senior Victoria Avalos said.
The first aid course requires students to watch a video for a three week period which is broken down into two sections every other class period. After each section, Smith allows time for them to practice what was shown in the section, in pairs, on each other. No written test is required to receive certification for this course, but Smith will be giving students a written test when all sections have been covered at the end of the three week period.
"The first aid training I am receiving this week would help in a medical emergency situation in the future, such as the case of my dad, who is diabetic. If his blood sugar was low, I would know how to react and treat the situation so he wouldn't go into diabetic shock. I know I could help save lives anywhere with this training course knowledge," senior Joshua Bednarczyk said.