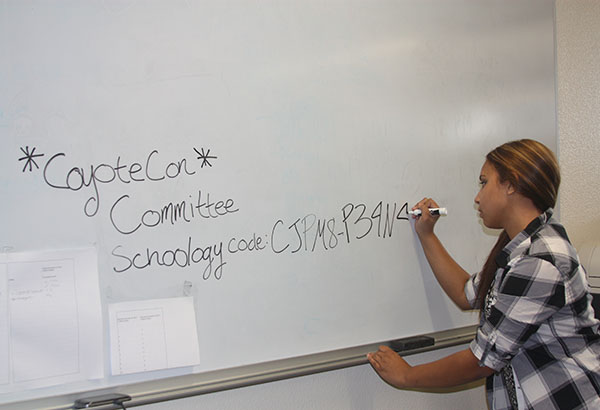 For their hospitality senior capstone project, seniors Gabriella Brubaker and Melvin Chicas are hosting Coyote-Con on Nov. 22 from 12 p.m. to 4 p.m. to raise $2000 to donate to Three Square.
"The event is a fun type of fundraiser that's different from most fundraisers because it will be a combination of comics and anime. All proceeds made from the event will be donated to Three Square," Chicas said.
The four hour event will feature anime, comics and gaming. All students who attend the event will be able to network with other gamers, participate in panel discussions, answer trivia and more.
"I'm excited to see other students' reactions to the different activities because I know it's going to be super fun," senior Alyssa Laster said.
Brubaker and Chicas are in the process of drafting a proposal to open the event to students from outside schools to attend.
"I'm looking forward to meeting new people because I want to see who likes the same things as I do," sophomore Johnny Lee said.
Additional plans include transforming the gym into a gaming ground with computer stations, arrange a live action role play (LARP) and conclude the event with a closing dance.
"I look forward to the event because we have a lot of creative individuals who are determined to transform their imaginations into a reality," sophomore Khylsie Mae Aparece said.
Currently being discussed is the possibility of various food trucks, food and merchandise vendors, a costume design contest and other activities. Students are allowed to wear costumes to dress up as their favorite characters from an anime show or game, but are not required to wear one to attend.
"I can't wait to see all of the costumes that the other students will be wearing because I know they're going to be amazing," Laster said.
This event will be the first hospitality capstone event to take place this school year and tickets can be purchased for $20 in room B113 from Chef Linda Burns. Since the tickets only account for event entry, students who wish to purchase items from the food or merchandising vendors at the event must bring additional money. All Coyote-Con attendants will also receive a complimentary goodie bag filled with an assortment of treats and other items.
"Since the moment that we created this event, I have truly believed that we will get at least 300 people to come to the event. I have a lot of faith," Brubaker said.
Students who are interested in volunteering for this event may sign up in room B113 with Burns. An informational meeting will be held on Oct. 15 in room B113 from 2 p.m. to 4 p.m. Additionally, students may sign up to join the Coyote-Con Schoology group with the code: CJPM8-P34N4
"There's a lot of interest in this event so I know the turn out is going to be really great. So far, 22 people have attended the discussion meeting and a lot of students have been coming up to me and asking questions about the event," Chicas said.