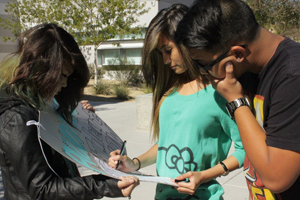 The annual SWCTA talent show will be held tomorrow in the gymnasium. Students auditioned with a variety of talents ranging from singing to gloving.
"I'm so excited for the upcoming showcase. It will give me a chance to practice and do what I love, singing," senior Savannah Ambrose-Kahawai said.
Trixia DelaRosa, sophomore, won last year's talent show with her vocal performance. The contestants this year are practicing in order to make this year's show an admirable one.
"We practice together every opportunity we get and we put all our effort in creating something entertaining for people to enjoy," junior Ira Nocom said.
This showcase aims to make participants practiced and ready for the actual competition in February.

Loading ...
"I am excited because we have a number of first time performers in the talent show this year. I think it will be a great show," Talent Club Advisor Ms. Krista Boivie said.
The show begins at 5:00, and tickets are $3. Additionally, tickets can be bought at the door before the show for $5.