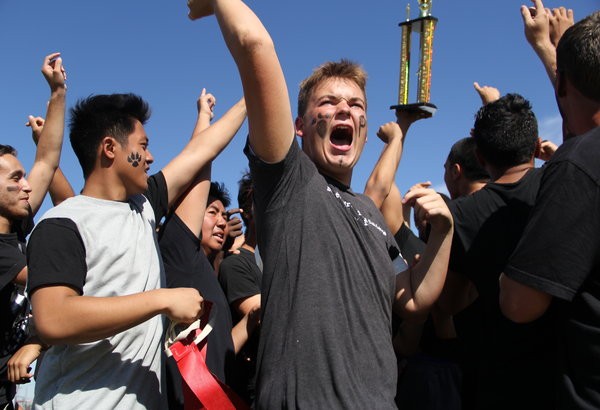 The sixth annual Professional Academy (PA) vs. Design Academy (DA) homecoming football game was held on Oct. 17. The girls game concluded with a 6-6 tie, while the PA boys won 14-0.
"We want to have a Homecoming game and one of the sports that CTAs are allowed to participate in is flag football," Student Council adviser Miriya Julian said.
The girls game occurred first and started with freshman Alexuss McClaskey scoring a touchdown for PA. Sophomore Isabel Hernandez then scored the first point for DA, ending the game with a 6-6 tie.
"The game started off fun, but as the game went on, we got more competitive. I believe that if we had more time to play, we still would have won even though PA had more girls," Hernandez said.
To determine the winner, the referees conducted a football toss. DA predicted the football would land on laces when tossed, whereas PA chose skin. The result was laces; therefore, the DA girls won.
"I was happy for the DA girls, but I felt like the PA girls dominated that game, offensively and defensively and probably should have won," PA coach Mr. Robert Davis said.
During the boys game, senior Benjamin Sison scored the first touchdown for the PA boys. They also scored additional points from a two point conversion after their first touchdown. PA Senior Abdullah Ajaj then scored the second touchdown, but the game ended before the second two point conversion.
"It is always nice to end your high school career with some bragging rights. I enjoyed playing in the game with my friends," Sison said.
At halftime, the homecoming court participated in a Secret Garden-themed relay race, which the seniors won.
"I think the juniors did okay, but we got stuck on the gardener uniform and balancing the flower pot," junior Cailin Lopez said.
Along with the relay race, teachers Mr. Jeffrey Ball, Ms. Tawanna Ervin, Mr. Dennis Goode, Mr. Jared Ogden, Mr. Justin Orapello, Ms. Cathy Sabol, Ms. Maria Terada, Mr. Gordon Thomas performed a choreographed dance to Taylor Swift's single "Shake it Off."
"It was put together in a collaborative way with Ms. Ervin and Ms. Terada leading. It was totally devastating to get in front of people and dance. It took all that I could do, but it was very fun," Goode said.
In addition, the cheerleaders also performed a routine during half time.
"I feel like our team did really well. We practiced for about a month, but it was still nerve wracking because it was our first time as the 2014-1015 cheer team performing in front of the entire school," junior Katherine Chang said.