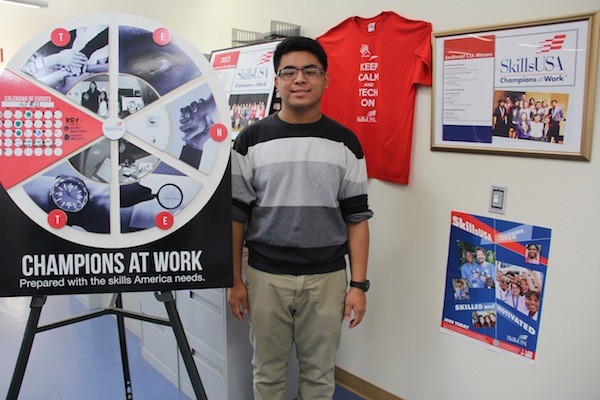 SkillsUSA members are celebrating the nation-wide SkillsUSA Week from Feb. 18 to Feb. 21 through school-wide spirit days, offering different rewards for participating students each day.
"I'm excited for the spirit days! I hope everyone in the school participates," SkillsUSA President Austin Ynigo said.
Our school postponed the spirit week, so instead of it being Feb. 9 to Feb. 15 like every other state in the country, Southwest CTA celebrates it Feb. 18 to Feb. 21.
"As you may know, SkillsUSA is one of the Career and Technical Student Organizations (CTSO) represented on our campus. Every year in February, SkillsUSA chapters around the country celebrate SkillsUSA week. February is the perfect month for this since it is Career and Technical Education month," SkillsUSA adviser Mr. Terry Lively said.
Tuesday is SkillsUSA Awareness Day. The challenge is to take a picture that best represents your program area or SkillsUSA in some way. Students can submit pictures to Twitter or Instagram via @SWCTASkillsUSA, or to the SWCTA SkillsUSA Facebook Page.
Prizes:
If the winner is a non-skills member, they will receive a $20 Starbucks gift card.

If the winner is a SkillsUSA member, they will be given the option of a $20 Starbucks gift card, or $20 off the state conference.
"An example of the kinds of pictures that should be taken include: taking a picture in front of a skills poster, taking a picture that best represents your program area, or wearing gold gloves to represent the hands in the emblem," SkillsUSA Vice-President Allison Ho said.
Wednesday is Social Media Sweetness Day. SkillsUSA representatives will be giving out chocolate kisses during both lunches to students and teachers that follow or like the SkillsUSA Facebook page, Twitter or Instagram.
"I'm not in SkillsUSA, but a free way to earn chocolate sounds good to me! Plus, I will be supporting our school by liking their social media sites," junior Zachary Bourbeau said.
Thursday is Community Service Day. In celebration, members will be holding a meeting in C102 at 1:45 p.m. for all students. At the meeting, students will be making peanut butter and jelly sandwiches for the Shade Tree organization.
"I am participating in the Community Service Day by attending the meeting and bringing all of my friends to make sandwiches for Shade Tree, it's a good cause," SkillsUSA member Anthony Leoni said.
Friday is SkillsUSA Pride Day and students are encouraged to wear red on this day to recognize SkillsUSA Week. The winner of the photo challenge will be announced on Friday.
"All I have to do on Friday is wear red? Ha, that's simple and at the same time I'm showing my pride for SkillsUSA," senior Kinsey Wagner said.