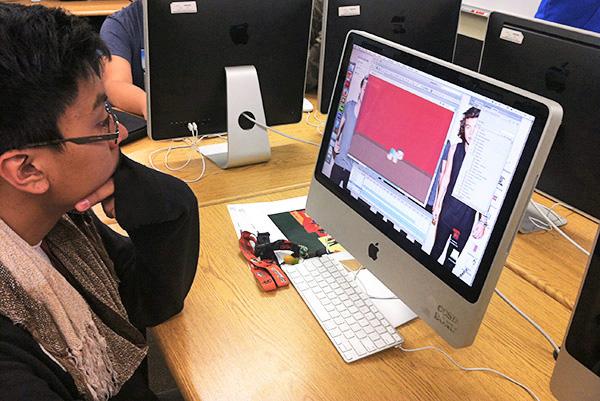 Web Design juniors Jonathan Jackson, Janay Hagans, and Troy Sirat created an autism awareness project for the SkillsUSA Community Service Competition. They made a short seven minute video about Ben Nelson, an autistic student, previously attending Foothill High School.
"In mid October we got to meet Ben for the first time, and were told he had an amazing artistic talent to draw with a pencil and on a computer. Part of the video shows a time lapse of Ben drawing me, and it's so detailed and creative that we thought it was amazing," Hagans said.
A few months after the first video was finished, the project was expanded to include a flash animation of Ben's book, Little Red Flying Hood, and the juniors in Web Design created a promotional website and an animated video.
"We connected previously learned skills to both inform people about autism and to help an autistic client have a financially secure future. We broke up into two teams so that we could accomplish two tasks at once. One team was in charge of making an animation to inform people all about autism and what it really is. The other team was in charge of making a website to promote our autistic client," junior Mason Andrews said.
The sophomores in Animation I had the job of making a flash animation of their client's book. The class was divided into four different sections: animators, helpers, audio directors, and art directors.
"Jaden and I are in charge of the 64 people working on this book. Every daily lesson plan, assignment, and grade is up to me and him. Also, we have to keep an eye on the work being produced and make sure our client Ben is happy," sophomore Saramei Kalaoram said.
The completed project will be presented at the SkillsUSA Nevada State Conference from March 25-27.
"I am very proud of our animation! I think it will provide the necessary and valuable information to the community in an entertaining way," junior Sabriya Said, animation leader, said.