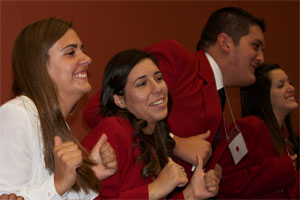 Skills USA is searching for students who are interested in joining the club, and are willing to compete with others from across the district.
"Being in Skills USA has taught me how to be a better leader, and has helped me improve my leadership skills," states senior Spencer Pierson.
Skills USA is currently looking for students who are interested in competing at the State Level with other students studying similar program areas, such as Dental Assisting, Web Design, and Culinary.
The first day of competition will be a leadership contest, in areas such as mock job interviews or prepared speech. The second day is a skills contest, which is competing against others in the area of their program expertise.
"Students are able to apply what they learn in the classrooms when joining Skills USA, when competing with other students in the same program area," says Graphic Design teacher Ms. Maureen Clark.
By joining Skills, students can earn recognition for their hard work, and compete to win scholarships and other prizes.
"I joined Skills because it doesn't take away much from school time, and it teaches me skills in order to succeed in the future," comments junior Brittany Chopp.
On Tuesday, Nov. 8 from 2:00 to 3:30 p.m, Skills USA will be meeting in the Coyote Ballroom. If you're interested in receiving more information regarding Skills USA, see Ms. Clark in room C123 or any other advisers, like Mr. Daniel Sylvester, Chef Allen Asch, or Ms. Krista Boivie before or after school.