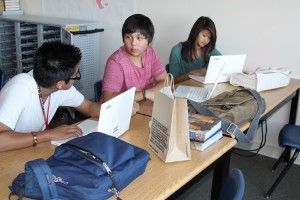 The school year is rapidly coming to an end, and teachers continue to find unique ways to wrap up the last few weeks. World History teacher Mrs. Jennifer Brant has recently assigned her sophomore honors students an end of the year project concerning the 30 articles of the Universal Declaration of Human Rights.
"I think that Human Right issues are still present today. The Universal Declaration of Human Rights was written in 1948 and still exists today. This project is based on the past, present, and future of Human Rights which ties together everything they have learned so far in world history," Brant said.
The purpose of this project is for students to become familiar with and inform others about these rights. Students were told to work with a partner or individually and choose an article from the Declaration of Human Rights to research.
The visual presentation requirement for the presentation is the use of a Prezi that contains minimal or no words. The Prezi has to contain charts, maps, political cartoons, and at least three pictures, as well as a MLA citations page with research sources.
"This project is going to be awesome. Mrs. Brant gives us the chance to get extra credit if we don't use notecards or words on our Prezi during our presentation," sophomore Joseph Alturo said.
All students will be required to answer a series of questions during their eight minute presentation. Questions for the speaker will address events of the past that led to the creation of the article, the current state of the issue, and the last question will help inform the audience of methods to help change the status of the issue for the future.
"I got Article 5 which is about torture. I'm kind of excited to present my article that I researched to the class because I know it is a sad topic to discuss, but it is an issue that many are still faced with today," sophomore Julia Wenzinger said.
Presentations will be taking place on May 29 and May 31.