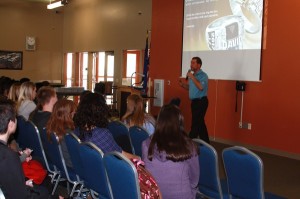 The Class of 2015 gathered on Jan. 23 in the Coyote Ballroom for a presentation regarding ordering and purchasing class rings.
"We are going to be able to order our class rings during sophomore year to wear them during high school and not to have to worry about it senior year," sophomore Helen Abraha said.
Class rings are worn to commemorate graduation of high school, and this tradition has dated back to 1835. The rings are not only tradition, but are often passed on to future generations.
"Class rings are such an important part of our high school experience and I'm glad we are about to learn about them this early," sophomore Negesty Kebede said.

Loading ...
Without customizations, most rings cost as high as $400, and the lowest priced ring costs costing approximately $70. Students can choose the type of stone cut and various colors for the stone, depending on their personal style. They will also be able to customize what is written on the ring.
"Even though all the details are not set into place I am so excited to order my class ring when the time comes," sophomore Gaity Wahab said.