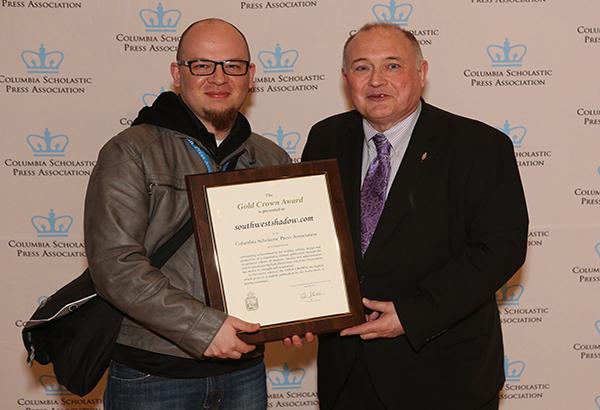 The Southwest Shadow was presented with the 2015 Gold Crown Award by the Columbia Scholastic Press Association (CSPA) in New York City on March 20 at Columbia University.
"I was so happy for the staff of the Southwest Shadow. It is their award and I wish they could have been there in person," LaPorte said.
The award was accepted by journalism adviser Mr. Matthew LaPorte at the Awards Convocation Ceremony during the 91st annual Scholastic Convention. The CSPA Gold Crown is earned by achieving overall excellence and is the highest recognition given by CSPA to a student print or digital medium.
"I'm glad that we won this award because it shows that we, as a team, worked really hard on updating the website in a timely manner and trying to produce stories that appealed to the student body," Management Editor Nikki Marie Molina said.
This year, approximately 1,203 publications were eligible for judging in the 2015 Crown Awards Program. The Southwest Shadow was one out of 13 digital publications who received a Crown Award.
"I'm proud that we won the award because we work really hard as a staff and it represents how much effort we put into writing stories and updating the site," Acel Soriano said.
The publication was recognized as a 2014 CSPA Silver Crown recipient for the 2013-14 school year.
"The mission of the publication is to keep the community informed. It's awesome that committing to their mission has also earned the staff accolades," LaPorte said.